Last Updated on November 28, 2019
The use of apps is on the rise, reaching into all areas of our lives. It's no surprise that there are a number of mobile apps in the market designed to help learner drivers pass their test and get on the road.
In this article, we are reviewing some of the most popular and widely used apps for learning to drive in the UK. These apps cover all bases, including booking driving lessons and finding an instructor all the way through to helping you pass your theory and test.
Official DVSA Theory Test Kit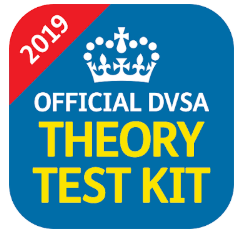 It makes sense to start with the official DVSA mobile app which is designed to help its users pass the theory test. The app includes every single DVSA theory test question and is kept up to date in line with any changes to the test.
This makes it the most reliable app for learners who want to greatly improve their chances of passing their theory.
The app also gives access to the official Highway Code, 20 hazard perception CGI clips, mock examinations and a ton of other features to remind you to study, like notifications and a progress tracker.
Having access to all of the official theory questions in the palm of your hand means your mind should be at ease when you walk into the test centre, as long as you've actually been revising of course.
The app retails at £4.99 and is available on iOS and Android
Driving Theory Test 4 in 1 2019 Kit Free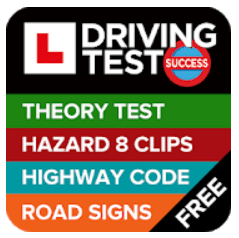 If you're looking to get started with theory test revision and you're not quite ready to pay to do so, then the free version of the Driving Theory Test 4 in 1 2019 Kit could be for you.
Although it's not an official DVSA app, it still boasts a ton of useful features. There is a sizeable bank of theory test practice questions, a mock test a hazard perception app and a road signs app too (these are the four apps in 1).
Driving Test Success also have a paid version of this app and as a result the free version is restricted and you won't have access to everything, but it's a good place to start if you want to get a taste of app based theory test revision without reaching for your wallet.
You can download the free version on Android.
The paid version is £4.99 and is also available on Android and iOS
Midrive

Midrive is an app for learner drivers that isn't for theory tests, but it is a driving lesson booking and management system.
The app allows learner drivers to find a driving instructor in their area, using a search tool. Once you have confirmation there is a Midrive instructor available in your area (there are over 3,000 Midrive instructors across the UK), you can purchase a block of driving lessons, paying a deposit of £25.
At which point the app comes to life. You can manage your driving lessons, cancel or reschedule, and even get tips and hints on what specific skills you need to brush up on. The app also tracks your progress, reminds you of when your lessons are booked.
The app is free to use and you can download it via their website during the lesson booking process.
SimDrive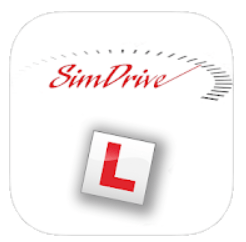 SimDrive is an app that could help you practice for your practical driving test. Yes, it does sound strange that an app could help you pass your practical test, because you're not actually behind the wheel. But the app will put you in a virtual driving seat and you'll be taken through a test route on screen.
The app is very much London focussed, allowing you to "virtually" take a practical driving test at any London test centre. It will identify your strengths and weaknesses because as a user, you will be expected to take virtual actions that you would need to do in real life when driving, for example, checking mirrors, indicating, adjusting your speed and identifying hazards.
The idea is that the app will build good driving habits that should translate over to driving a real car.
The app costs £4.99 and is available on iOS and Android.
The Collingwood Insurance App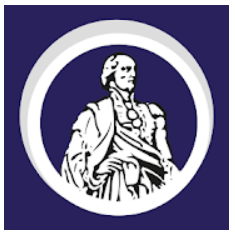 If you're learning to drive and need to get insured for private practice in your own car, or in a friend or family members car, Collingwood Insurance can get you covered.
We also have a handy app of our own, available on iOS and Android devices, which will allow you to manage your learner policy in the palm of your hand. Access your car insurance certificate, breakdown cover and more. It also makes uploading proof of no claims and other documents a breeze.
Once you are logged in you can (depending on insurance type):
– View current and past insurance policies.
– Take a picture and upload important documents to us via your account.
– Have instant access to your policy documents.
– Receive important notifications.
– Get answers to your most frequently asked questions.
You can get a quote for a provisional insurance policy here.