Last Updated on February 28, 2022
Here are some handy marketing tips that could help your driving school find more pupils and become more profitable.
Get a Driving School Website
If you don't have a website, then you're missing out on multiple marketing opportunities. The days of newspapers, bulletin boards and the Yellow Pages have long gone. Without a website, you have no method of leveraging online marketing channels like Google and social media. Your website is the foundation and the glue of your marketing. Most of your marketing activity should be generating web traffic from pupils looking for an instructor. Don't miss out on the majority of the market. 91% of the UK are internet users, you NEED a website. You can get a free website using Wix or Weebly.
Make Sure Your Contact Details Are Visible
How easy is it for a potential pupil to find what they are looking for on your website? Can they book lessons? Can they make an enquiry? Will they quickly be able to see the value you offer as an instructor? If the answer is no, then you need to have some basic things in place. Ensure your telephone number is visible on every page. Most people look at the top a web page for the telephone number, so it makes sense to put it there if you can. You should also have a contact page with a web form where a pupil can easily submit an online enquiry to you via email.
Advertise Your Driving School on Google Ads
Google Ads is a marketing system that allows your business to show on the Google search results when a user types in a search that matches your nice. E.g. if you're a driving instructor in Hull, then you would want to show up on Google when somebody types in 'driving lessons in Hull'.
To do this, you'll need to get set up on Google Ads. The system works by holding a real time auction every single time a user performs a search for the service you provide. You tell Google the most you're willing to pay for a click to your website. The highest bidder in the auction for the search terms usually shows in the highest position, further up the search results. However, you only pay when the user clicks your advert.
It is a difficult platform to master and you should either hire a professional agency or PPC freelancer consultant to manage Google Ads for you, or invest significant time and effort to learn how to manage the system. This PPC Checklist is a good place to start.
Leverage Social Media
Social media websites like Facebook, Twitter and Instagram are great mediums to reach your target market. Learner drivers from the age of 17 – 24 are avid users of social media, so by virtue of creating social media profiles, you'll be in the right place to start marketing to them.
So what do you need to do? Post useful insight and content on Facebook and Twitter regularly, ensure you have links to your social media profiles on your website. You can create a Facebook business page here and sign up to Twitter here.
Pay for Ads on Facebook
Now that you are up and running on Facebook and posting regularly, you should supplement your activity with paid for ads.
Back in 2014 Facebook changed their algorithm and effectively reduced organic reach. What this means is that even though you post on Facebook, it's unlikely that most of your followers will see your content, so buying ads on Facebook by boosting your posts or creating a Facebook Ads campaign will ensure your message reaches your target audience.
Facebook allows for sophisticated targeting, so you could technically target young people in your serviceable area specifically.
Although Facebook ads are easier to manage than Google Ads, you should still either hire a consultant/agency or take time out to learn the system.
Consider Starting a Driving School YouTube Channel
This one is a big ask, but if you have the on camera persona, energy, time and indeed the resources, you can create a driving instructor YouTube channel. Successful driving instructor YouTube channels can generate over 17k views per day!
Instructors with large YouTube channels (and even some smaller ones) often don't need to do much other marketing because they are booked around the clock due to the exposure YouTube success affords them. One of our Collingwood Insurance affiliate program partner instructors has a channel with over 27,000 subscribers.
You'll also need to ask permission from your pupils to record lessons beforehand, but having a YouTube channel could skyrocket your bookings.
Optimise Your Website with SEO
SEO stands for Search Engine Optimisation. This is essentially the process of making changes to your website (based on keyword research) that will make your website more likely to show on page 1 of the Google search results page organically (not in the paid section we discussed earlier).
SEO takes a long time and it can take a lot of expertise to master. The process involves researching what search terms (or keywords) pupils will type into Google to look for your services and making changes to key area of your website, including your headings, titles, and on page text.
If you're a driving school in Grantham, then you'll want to optimise these areas of your website towards a keyword like 'driving instructor in Grantham', to maximise your changes of showing on Google for this type of search.
It's worthwhile learning the basics of SEO. You can learn directly from Google through their Digital Garage
Get Listed on Google Maps (Google My Business)
Google My Business is a free to use tool provided by Google where businesses can list their area of operation, address, contact information and even pictures within a directory that is visible in the Google search results. You'll notice when you type a search into Google with a location based intent, e.g. 'driving instructor in London', you'll notice the search results page will have a map with businesses listed.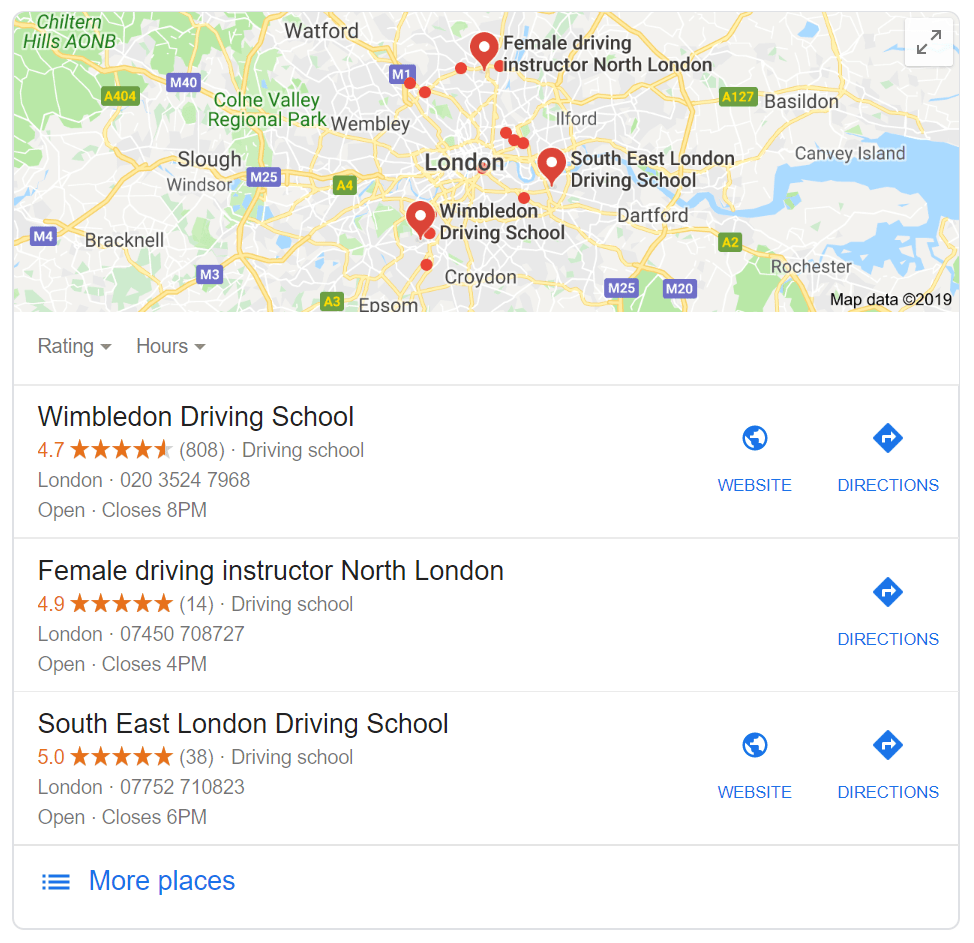 You want to be visible in this here, so when pupils are looking for an instructor and you're in their area, you'll show up in the map. Create a free listing in Google My Business will allow you to show in the map when a search is triggered for your services in your area.
Get a Memorable Logo
Create a memorable logo for your business. It's likely that you aren't a graphic designer, so you shouldn't attempt to create your own logo unless you're comfortable using graphics packages. If you can't create one yourself, you're probably worried about the price, but it doesn't need to cost the earth to get a professional logo created. You can generate a logo for free through websites like FreeLogoDesign or you can use websites like Fiverr to get a logo designed by a pro for less than £10. Keep your logo as long as you can, don't chop and change.
Pick a Brand Colour Scheme
Following on from the previous point, your logo and colour scheme should work together. Not sure which colours work well together? Use this tool to pick your preferential colour and it will show you which other colours compliment your primary colour.
Brand Your Driving School Vehicle
Take advantage of all the eyeballs that will see your car in traffic or out on the road. If people see your branded car and are in your target market (potential learner drivers) then it can help you find new pupils in 2 ways. Firstly, the pupil could see your car and contact you directly for lessons. And secondly, when they are ready to book lessons, even if they don't contact your directly and they go to Google, they may recall your driving school's name in the search results and click your website over your competitors.
Get Reviews with Trustpilot and Google
If you've followed the advice given in this article, you should have a Google My Business listing ready to go. Google My Business has a review feature where customers can leave reviews on your service. Encourage students to leave reviews on your listing.
There are 2 reasons for this. Firstly, positive reviews can help push you up the rankings on Google My Business, meaning you'll appear higher up the page. Additionally, having a ton of positive reviews is a great marketing tool. You can show off the great service you provide and potential pupils will be more likely to pick you over the competition.
You can also use review websites like Trustpilot to generate reviews for your driving school. Simply create a Trustpilot profile here, gather positive reviews and then promote the reviews with the powerful Trustpilot 5 start rating icon.
Join a Driving Instructor Membership Organisation
We have previously discussed the merits of joining a driving instructor membership organisation. It allows you to stay up to date with the latest trends in the industry and they often offer training, events conferences and business development advice.
The 3 largest organisations are the DIA, ADINJC and the MSA GB. See how they can help you develop as an instructor and as a business.
Earn Additional Income Through Collingwood
As an instructor you'll be open to increasing your earning potential. Join hundreds of driving instructors enrolled on the Collingwood Insurance affiliate program. You earn £20 for each student that you refer to Collingwood that takes out a new policy. That's regardless of how many – e.g. Just 10 referrals would get you an extra £200 per month.
We'll even send you all the promotional material and provide tracking links and banners. It's a great way to top up your income.
Summary
Marketing a driving school is tough. You're in a highly competitive space with a regular stream of new entrants into the market, so you'll need to stay ahead of the curve. This guide should help you get more from your marketing and hopefully allow you to be fully booked around the clock.