Finding a good driving instructor doesn't need to be down to luck or trawling through Google with no real idea of what to look for.
Finding a good instructor is the second step towards passing your test after getting your provisional licence. Many learner drivers hear the stories of driving instructors either not being the best teachers, or worse, crossing the line between a professional student and pupil relationship.
We've put together a handy guide to help you find a good local driving instructor who will have you driving test ready in no time.
Driving Instructors and The Power of Word of Mouth
Good old fashioned word of mouth. In a world full of search engines, apps and social media, you'll probably be surprised to hear that word of mouth recommendation is the best way to find a good driving instructor. But word of mouth relies on believing the review and verdict of your most trusted friends or family members, as opposed to solely relying on reviews online.
If you have a friend or family member who has given a particular driving instructor or driving school rave reviews, then you're probably on to a winner. Take word of mouth reviews as the most trustworthy review of a driving instructor in this article.
There is a reason why marketing and customer service surveys always have the same leading question "How likely you are to recommend a service to a friend?". If somebody you trust tells you to avoid a particular driving school, then you'd do well to follow their advice. Ask around and see which driving instructor your friends and family have heard good things about.
Driving Instructor Reviews on Trustpilot and Other Review Websites
If you don't have a word of mouth recommendation to rely on, then the next best thing is verified online reviews. There are a lot of review websites but the secret to knowing which reviews to trust relies on the looking at the detail. Driving Schools using a review platform like Trustpilot with up to date and recent positive reviews can be a good indication of how good the driving instructor could be.
Furthermore, websites like TrustPilot often have a feature that shows whether or not the review was from a verified customer. See a screenshot from the Collingwood Insurance Services Trustpilot account below and notice the 'Verified order' icon next to the review.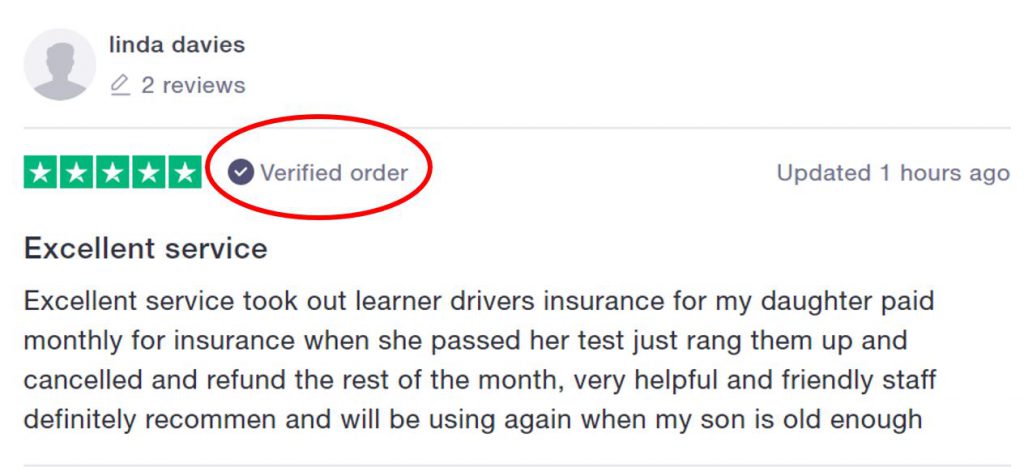 Once you're confident that the reviews are positive, verified and up to date, then you can be confident that the instructor should be good. It doesn't take much to spot bad driving schools by way of reviews either. If you see driving schools with consistently poor reviews, then avoid it may be best to avoid.
Driving Instructors and Customer Service Quality
When you decide to contact a driving school and pick up the phone to book your first lesson, notice how the conversation goes. Of course it's normal for a business to not pick the phone up if they are busy, however if you need to chase a driving instructor repeatedly, then that could be a bad sign.
Poor customer service will of course set off alarm bells. Also, if a driving school seems too busy to respond to an enquiry, then they simply may not have the capacity for you as a pupil.
When calling or messaging a driving school, see if it's possible to speak directly with the person who would be teaching you. For independent instructors, this is easy, but if you're contacting a large franchise, then it may be more difficult to speak to your instructor ahead of booking a lesson.
Check Your Driving Instructor Is Approved by the DVSA
No matter how good the referrals, reviews or customer service is, if the instructor is not approved by the DVSA then you should avoid them. You can check and see if the instructor you have in mind is approved by the DVSA by searching the DVSA approved driving instructor database
The database will also show you which instructors are signed up to the ADI Code of Practice. The Code of Practice is a framework of rules of conduct covering conduct in lessons, the quality of the learner driver car, and standards of business. Because the scheme is voluntary it doesn't necessarily mean that the instructors not signed up aren't good at their job, but it can provide extra comfort when booking. The main takeaway from this point is that the instructor needs to be approved by the DVSA.
Finding a good instructor can be tough, but luckily here at Collingwood, we work with hundreds of approved ADI's. You can use our handy Find an Instructor tool to help you get started. We also provide insurance for learner drivers who want to do private practice in addition to driving lessons.