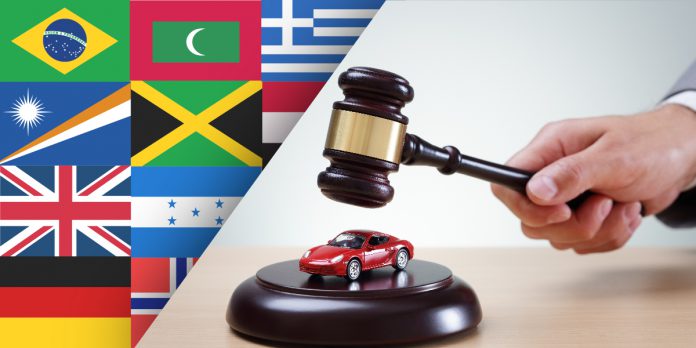 Last Updated on May 25, 2021
As many people know, the process of getting your driving licence here in the UK isn't easy. Around 1.6 million people sit their practical car test per year. The UK has an annual pass rate of around 43% – this means more than half will fail their driving test. It may come as a shock to many that driving test pass rates aren't the same across the world. In fact, some countries don't even have a driving test at all! So, if you'd like to find out the easiest and hardest places in the world to get a driving licence, read on.
Obtaining a Driving Licence Mexico City
According to the Global Status Report on Road Safety 2013 Mexico, was estimated to have 16,700 people killed in road traffic crashes every year. With this in mind, it isn't a massive surprise to discover that Mexico does not have a driving test. In order to receive your driving licence at 18 years and above, you simply have to sign a document that states that you are able to drive. A driving licence is thought more of a "method of regulating drivers instead of certifying them, and thus issues licences without any sort of test"
Egypt
As with Mexico, it is difficult to call Egypt's driving 'test' a test. To receive your driving licence in Egypt, you must simply drive six meters forward and then reverse six meters backwards. That being said, they recently made the test 'more difficult' by adding 10 questions to the test, still making the test one of the easiest places to get your driving licence.
India
If you don't fancy sitting your driving test in India, which is essentially driving in a straight line, take a left and then stop after 50 yards, you don't have to. According to Top Gear In India, you do not have to take your test, you can simply pay 500 to 1000 rupees to an out of state driving agent and you can get an out of state licence – which shockingly is valid all over the country.
Honduras
In Honduras, there was never a driving test in any form but in recent years they have made it more difficult by actually creating a driving test, however, this is isn't a practical test. You just need to take a short written test and then you are deemed safe to drive on the road.
Finland
Going onto the hardest places to get your driving licence in the world, I have to start with Finland. It takes three whole years to receive your full licence in Finland. To get to your B class licence it requires 19 theory lessons and 18 hours of driving with an instructor – this must include a spell on icy courses. After this, you must go onto a computerised theory test and a driving test in city traffic. To receive the C class licence it takes longer, the initial licence only lasts two years and if you receive more than two fines your licence will be revoked.
Germany
Germany also has a relatively low pass rate. to receive your driving licence you must pass a two-stage theory test at a designated driving school. You also have to pass an eye examination test and first aid course. Before you sit your test you must have completed 4 motorway lessons, 3 night time and 5 country road lessons, which is why Germany is one of the most expensive places to learn to drive.
Norway
Norway has a unique process for attaining a driving licence, it is also a long process. there are different requirements for people of different nationalities and ages. The average process is registering an online application, this is when the police perform a background check to see if you are eligible. This check is valid for 6 months, which is when you move onto the next stage which is reading a book. this book is called " The Road to your Driving License" and then you complete the theory test.
Once the Theory Test is completed, you go onto the training course which is consisted of four parts, which starts with first aid training, a basic understanding of vehicles, driving skills, road traffic and the final training. You do a 45-minute drive, and if the driving school believe you are ready to drive they will submit you for your driving test. Once you have passed your test you have a temporary licence for a month.
Great Britain
Thankfully in Great Britain it's relatively straight forward to sit your driving test. You can book your driving test on the DVLA website and to help you get driving test ready you can check out our Learner Driver Insurance.