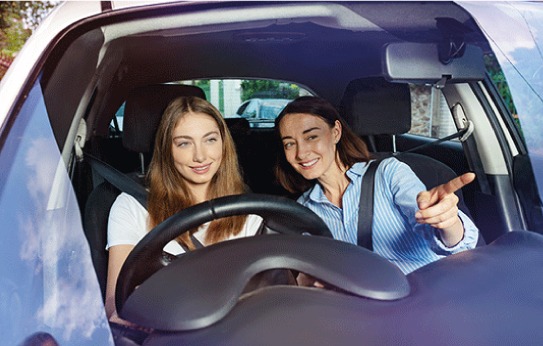 Last Updated on October 31, 2023
We realise insurance isn't the most gripping of subjects when you are learning to drive, but it's important to recognise how important it is and how Collingwood Learner Driver Insurance can help you get extra practice whilst you're learning.
I passed my theory test, how can I get extra practice without having to book more lessons?
With Collingwood Learner Driver Insurance you can get that extra driving practice in your own car, or in a friend or family member's car, with no risk to their policy. You can get insurance as a named driver, or get your own Learner Driver policy. Your own policy means that if you have an accident and you had to make a claim you wouldn't endanger the vehicle owners No Claims Discount. Also, our Annual cover can start from as little as 64p/day*.
Providing there have been no accidents or incidents you have the opportunity to earn 1 years accelerated No Claims Bonus. This means, Collingwood will issue 1 years No Claims Bonus which can be accrued in 10 months rather than 12*.
What rules do I need to follow when learning to drive in my own, my friend's or my family member's car?
Before you start to learn outside of a driving instructor's car it's important to understand that there are a few rules you must follow to stay on the right side of the law.
First, you will need your provisional licence, without that you will not be allowed to get behind the wheel of any car. If you don't have a provisional already, head to the DVLA now to apply for your provisional licence. Next, you will need to apply some L plates, or D plates if you're in Wales. Make sure you have one on the front and one on the back, that they are clearly visible and don't obstruct your view.
The last rule is that until you have passed your practical driving test you must always have a supervising driver with you. You cannot, under any circumstances, drive alone.

Get a Learner Insurance Quote with Collingwood
Who can teach me to drive outside of my driving instructor's car?
There are four points to remember here, including:
Your supervising driver must be at least 21 years old
Any supervising driver must hold a full UK or EU driving licence for a minimum of 3 years
The supervising driver must be qualified to drive the type of vehicle you're driving. For example they must hold a manual car licence if you're driving a manual car.
The person supervising you must sit in the front passenger seat of the vehicle.
Finally, your supervising driver must abide by the same rules of the road as you. They must conform to eyesight requirements, avoid mobile phone usage and definitely cannot be under the influence of alcohol.
What type of insurance cover can I get as a Learner Driver?
Typically Learner Driver insurance policies offer 3 types of insurance cover, including:
Third party only – the minimum level of cover that is legally required in the UK. It will cover the cost of any damage to a third party in the event of an accident caused by you. Your car is not included in this cover.
Third party fire and theft – offers the same cover as standard third party. Third Party Fire and Theft will also give you cover in the event that your car is damaged as a result of fire and/or theft.
Fully comprehensive – offers the same cover as above, but will also cover the cost of repairing any damage to your vehicle. This covers you even if you caused the accident.
With Collingwood Learner Driver Insurance you can purchase Short Term Learner Driver Insurance or Annual Learner Driver Insurance. We also offer all of the major types of cover and also a range of optional extras. A Collingwood Learner Driver policy can also run alongside full insurance on somebody else's car.
When I pass my practical driving test, what will happen to my Learner Driver policy?
A Collingwood Learner Driver Insurance policy must be cancelled when you pass your practical driving test. Upon cancellation of your Learner Driver Insurance Policy we may be able to offer you a quote as a New Driver.
Where can I find out more about getting ready to pass my test and getting Learner Driver Insurance?
That's the easy part! Simply visit our Learner Driver website to get started.

*Correct at the time of publishing.

Get a Learner Insurance Quote with Collingwood