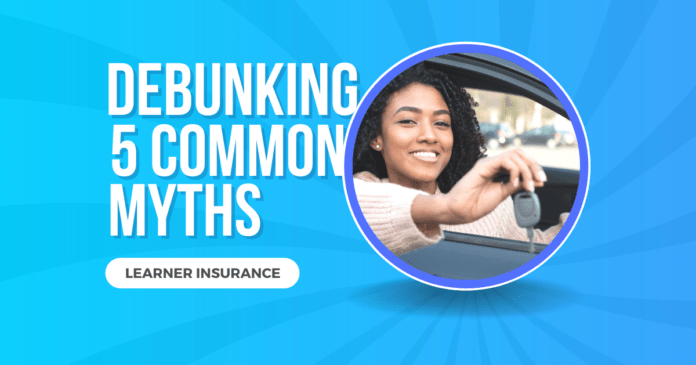 Last Updated on April 22, 2022
Learner driver insurance can sometimes seem confusing, but we're here to tell you it really is quite simple. In this article, we provide a quick myth-busting rundown on 5 common misconceptions around provisional insurance.
Question: Do you have to get an extension on your parent's insurance to learn in their car?
Answer: You can get your own insurance on your own or a friend's or family member's car
When thinking of learner driver insurance, one option is to be added as an additional driver on your parent's existing car insurance policy. However, this can not only be costly but may endanger the car owners no claims bonus if you were to have a bump. With Collingwood, you can get your own learner insurance policy to drive a friend or family member's car whilst ensuring their no claims bonus remains safe. Plus, you could begin to earn your own no claims bonus with Collingwood Annual Learner Driver Insurance.

Question: Is learner insurance expensive if you're a young driver?
Answer: Collingwood learner driver insurance can cost as little as 70p/day*
Here at Collingwood Insurance, we offer short-term and annual learner car insurance. Our short-term insurance is typically a 28-day policy with the option to top up your cover by 7-day increments. This type of cover is perfect if you only want to practice outside of lessons, or you only have access to another car for a temporary period. Our short-term insurance can start from as little as £1.04** per day.
Our annual learner driver insurance can cost from as little as 70p/day* and is perfect if you're just starting learning to drive, have access to a car for up to 12 months and want plenty of time to practice driving.
*70p per day is based on an Annual Learner Driver policy and prices can start from this price.
** Subject to terms, conditions and underwriting criteria.


Question: Can you only learn alongside a parent?
Answer: With Collingwood, you can learn with friends or family members
It's a common misconception that you can only learn to drive alongside a parent when you're not with your driving instructor, however, with Collingwood, this isn't the case. Our learner driver insurance allows you to learn with anyone over the age of 21, who has held a full UK driving licence for more than 3 years. This isn't to say you shouldn't learn with your parents, sometimes it's just more practical to learn with a friend or another family member.
Question: Do I have to add an additional driver to my learner insurance policy?
Answer: There's no need to add an additional driver with a Collingwood Learner Driver Insurance policy
Whilst adding an additional driver to 'traditional' car insurance may make the price a little cheaper, this isn't the case with Collingwood. Whilst you do always need to be accompanied by a passenger that is over the age of 21 and has held their driving licence for 3 years or more, they don't need to be added as an additional driver.
Question: Does learner driver insurance require a black box?
Truth: There's no black box required with Collingwood Learner Driver Insurance
Whilst it's true that other learner driver insurance providers require you to install telematics, or black box, in the car you insure, this is not the case with Collingwood Insurance.
With Collingwood learner driver insurance you can get a short term or annual quote and we won't ask you to fit a black box before you start to learn to drive. Simply get a quote at the link below, purchase your insurance and you can start learning to drive today!