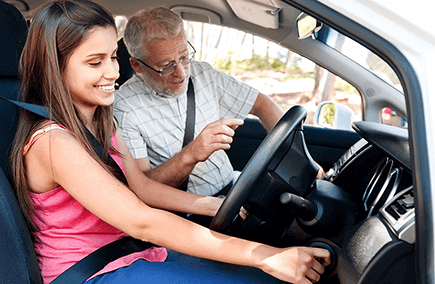 It's only natural to want to pass your driving test as soon as possible, after all, driving adds so much freedom to your life. Driving is also a skill that brings a massive amount of value to your life, but there are things you should consider before you start learning to drive.
Learning To Drive & The Legal Requirements
In order to learn to drive, there are legal requirements you must comply with, including:
Hold a valid provisional driving licence, you can apply for one at gov.uk here.
You can only drive a vehicle when you are 17 years of age, however, you can apply for your provisional licence from the age of 15 years and 9 months.
Must be able to read a number plate from 20 metres away.
If you are learning to drive with a friend or family member, by law they must be a qualified driver with a minimum of 3 years on a full car driving licence, whilst being over the age of 21.
That being said, the car you learn in must also be insured, taxed, have a valid MOT and display L plates on the front and rear.
If you like the idea of learning to drive with a friend/family member, or want to learn in your own car, you can get a competitive Learner Driver quote here, with our award-winning insurance.
Booking Driving Lessons
When it comes to driving lessons you should only pay for lessons if the person is either:
If you're unsure about an instructors credentials ask to see their Driver and Vehicle Standards Agency (DVSA) badge. If the badge is green it means they are an approved driving instructor, a pink badge means they're a trainee. It is recommended to have up to 45 hours of driving lessons, this is something to consider before you start learning to drive.
You can also search for an approved driving instructor using our handy Find an Instructor Tool.
Practising With Family & Friends
When practising learning to drive with family & friends the legal requirements (above) must all be followed. Learning to drive in your own time, whether that's in your own car or a family/friends car is a brilliant idea. This will give you more practice, preparing you for your test. More practice can also get you used to driving in your own car. That being said it is illegal for a learner driver to drive without being insured. It is also a legal requirement for the person supervising you to be over 21 years of age. (some insurance companies require the supervisor to be over 25, but here at Collingwood it is 21!).
If you feel you would like to get more practice, why not get a quote Learner Driver Quote here.
Is it Learning to Drive Difficult?
One aspect people quickly realise when they start their lessons is that driving is not easy! it takes plenty of time and practice, one lesson at a time you will improve and with a little patience and persistence you will be on the road in your own car.